JANE presentation at LDP regional revitalization committee
JANE presentation at LDP regional revitalization committee
On February 28th, JANE gave a presentation at the Liberal Democratic Party's regional revitalization subcommittee, Headquarters for the Action Committee for the Tokyo 2020 Olympic and Paralympic Games.
Presentation document in Japanese available here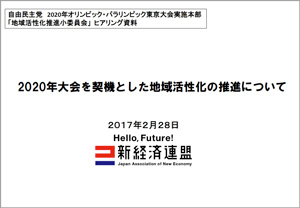 Our presentation focused on the idea of introducing "tourism nation" key performance indicators, which was part of the three-pillar policy recommendations put forward in our "Japan Ahead" proposal, as well as on regional regeneration measures introduced in our past policy documents "Tourism-Oriented Nation 2020" and "Super-Tourism Nation".
Also underlined in our presentation was the importance of establishing a framework to ensure cross-sectoral commitment and cooperation involving all stakeholders and of fostering enthusiasts for Japan and its constituent regions. We then proposed to turn Japanese regions into a showcase for cutting edge technologies as a model of smart communities.