Submitted "Proposal for Public-Private-Promotion of Blockchain" to Minister of Digital Agency, Minister of Finance, and Minister of Economy, Trade and Industry
Submitted "Proposal for Public-Private-Promotion of Blockchain" to Minister of Digital Agency, Minister of Finance, and Minister of Economy, Trade and Industry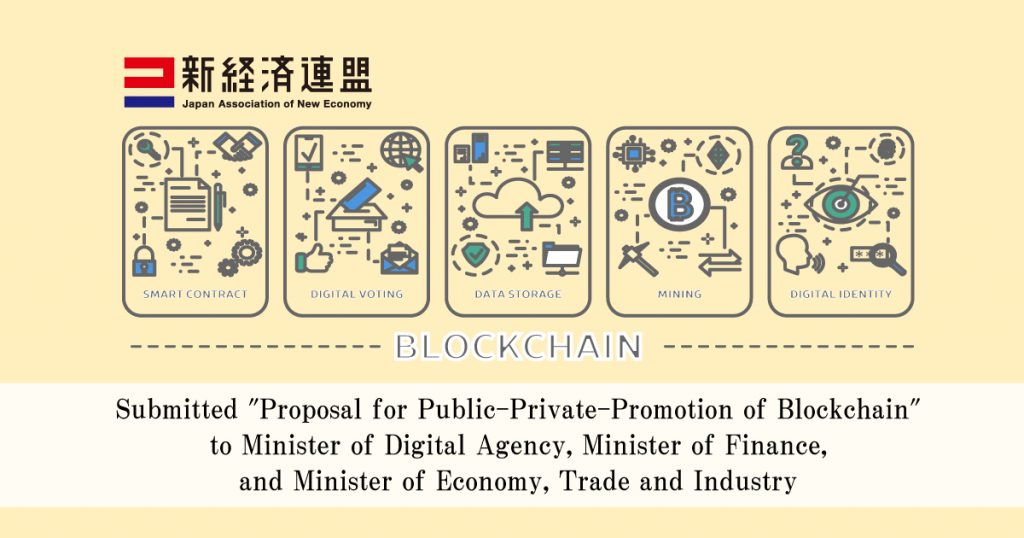 JANE has released a policy proposal entitled "Proposal for public-private-promotion of blockchain ~Toward a digital friendly society in line with the government policy of 2021~" and submitted it to Minister of Digital Agency, Minister of Finance, and Minister of Economy, Trade and Industry on October 27, 2021.
It includes 6 proposals to the Japanese government in line with its strategy this year and summarizes the latest overseas cases of national blockchain strategies and legislations.
From JANE to Government "6 Proposals for Blockchain"
① Set out the blockchain national strategy
 Each government throughout the world encourages the momentum to foster start-up companies and promote financial transactions as an industrial policy, and accelerates "smart government" transformation based on the DX (digital transformation) of social infrastructure with a clear sense of purpose to introduce blockchain.
 The Japanese government should also set out a vision and position for blockchain as a national strategy and build a system for policy deployment.
② Establish the blockchain public-private council
A forum for public-private council should be established under the initiative of the related administrative organs being assembled such as Digital Agency, Financial Services Agency, and Ministry of Justice to realize the government policy of 2021 and the recommendations from the LDP parliamentary group.
③ Develop the world's most digital friendly legislation
The legacy legal system premised on "paper, face-to-face, and centralization," prevent technological neutrality of blockchain from being guaranteed in our society. Digital support should be thoroughly addressed for issues that could be barriers to utilizing blockchain.
④ Form the business environment related to NFT
 The legal status of the values and rights represented by NFT should be organized, use cases and potential risks should be categorized, and the applicability to related regulations should be clearly stated in guidelines.
 A general consultation desk of NFT should be set up, and the business environment should be improved under a policy stance that allows business players to take on the challenge of "trying first".
⑤ Prepare the accounting standards for STO / ICO
 Investment and financing in blockchain companies is the highest global trend ever. Accounting standards should be prepared so that token issuance by Japanese listed companies and fundraising for blockchain startups will not be hindered.
⑥ Tax reformation
For individuals: Enable the change from comprehensive taxation to separate taxation, aggregation of profits and losses and deduction for carryover of losses.
 For corporations: Review the current situation that the unrealized profits (losses) related to cryptocurrencies owned by corporations at the end of the period are taxable.
For more detail
The full text of the proposal can be found here (Japanese) 
More information for the past Blockchain working group activities (Japanese)
JANE will continue to work energetically to promote the digital nation including the use of blockchain.