"Mirai no Shisatsu-dan" –JANE delegation visited India
"Mirai no Shisatsu-dan" –JANE delegation visited India
Japan Association of New Economy ("JANE") visited Delhi and Bangalore in India from 30th November to 3rd December as Mirai no Shisatsu-dan ("Delegation for the Future"). Mirai no Shisatsu-dan is a project under which JANE executives visit oversea countries once a year to fact-find innovative and advanced ideas. This is the second time that JANE dispatched the delegation. Along with Hiroshi Mikitani, Representative Director of JANE (Chairman & CEO, Rakuten Inc.), Yasufumi Hirai, Advisor of JANE (Chairman, Rakuten Communications) and Executive Directors Yasuhisa Takatani (President, E-guardian Inc.), Tatsuya Gonokuchi (President & Representative Director, MOTEX, Inc), Noboru Hachimine (Founder, President & CEO, OPT Holding, Inc), Noriyuki Matsuda (Founder, President & CEO, Sourcenext Corporation), Takashi Yuri (President & CEO, TechMatrix Corporation) joined the India delegation.
JANE selected India as trip destination as the country is with lots of potentials of further digital growth and economic competitiveness. India, with estimated population of more than 1.2 billion among which nearly half is under 24-year-old, is a county with high potential economic growth. Internet industry is the country's major driving force for the growth, and there are the world's best talented people in engineering. Prime Minister Narendra Modi announced "Digital India" initiative* in 2014 with vision that it transforms India into a digitally empowered society and knowledge economy. India is also called a startup nation with significant number of innovative startups, also supported by government initiative of "Startup India" to boost entrepreneurship.
*The "Digital India" is an initiative by the Government of India to transform the country into digital empowered society and knowledge economy. The initiative ensures to make government services to citizens available electronically.
JANE selected two cities in India to visit- Bangalore known as "Silicon Valley of India" and Delhi, the center of Indian politics and commerce. In Bangalore, the delegation met more than ten startups for their pitches and had discussion with representative of NASSCOM, India's biggest Internet industry associations.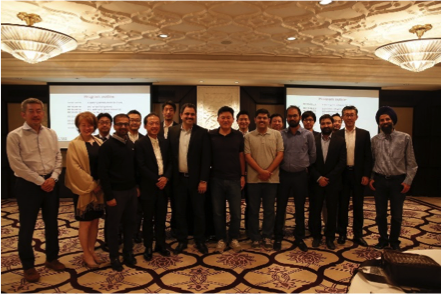 JANE member and startups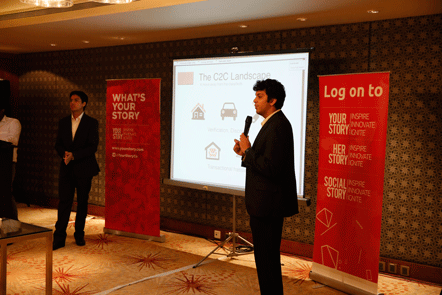 Startup presentation
In Delhi, the delegation made a courtesy visit to Mr. Ravi Shankar Prasad, the Minister of Communications and Information Technology, and Ms. Rita Teaotia, Secretary for Department of Commerce, Minister of Commerce and Industry to discuss internet revolution and way forward in India. In addition, the JANE members visit Indian Institute of Technology (IIT) Delhi, the most prestigious university in India in tech sector.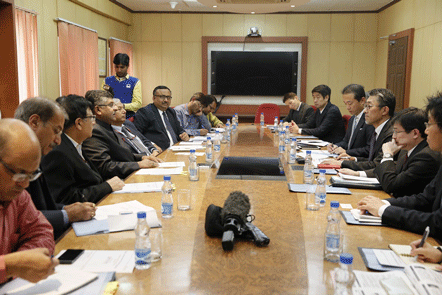 Meeting with Mr. Prasad, the Minister of Communications and Information Technology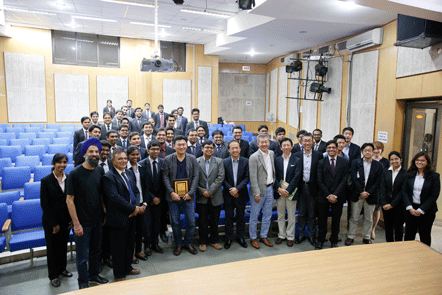 Visit to IIT Delhi
On November 30th, the JANE Advisor Mr. Hirai attended India-Japan ICT policies Joint Working Group (JWG) in Delhi. The JWG was held with attendees from both governments and companies from India and Japan. Mr. Hirai co-chaired the India-Japan business relationship and human resources session and gave presentation on expectations to both governments.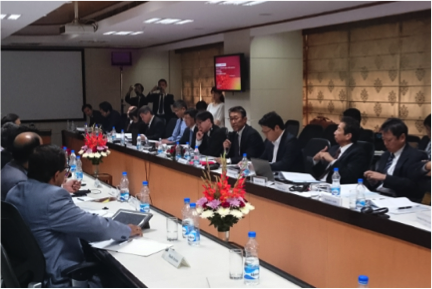 Joint Working Group (Public and Private) at Ministry of Communications and Information Technology