[Video available] JANE New Year Party 2017
[Video available] JANE New Year Party 2017
On January 25th, JANE held its annual new year party in Tokyo.
The party attracted a crowd of nearly 650 people. Thank you all for attending the event!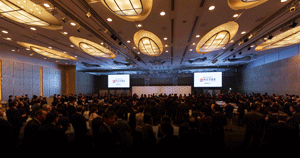 In his opening remarks, Representative Director Hiroshi Mikitani presented JANE's activities during last year covering such areas as the promotion of the "Digital First" principle, the sharing economy, educational reform for fostering a global workforce, and the recruitment of skilled foreign talents. He also reaffirmed JANE's commitment to advocacy work based on our threefold goal of promoting innovation, entrepreneurship and globalization, in keeping with socio-economic changes brought about by rapid technological progress including AI, big data, IoT, as well as ride sharing and autonomous driving vehicles.
After Mikitani's remarks, "kagamibiraki" or the ceremonial opening of sake barrels was held with attending embassy representatives, followed by a toast from Vice Representative Director Susumu Fujita. Our big thanks to JANE member company "Angel" who generously provided "Naebasan" sake barrels and wooden box cups.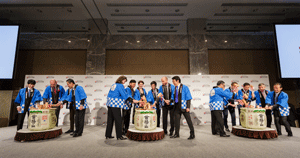 The new year party offered a good opportunity for JANE members and other guests to get to know each other as well as to familiarize with JANE's work.
JANE will continue its effort towards contributing to Japan's revitalization.