Member seminar "The frontiers of big data and open data: the co-creation of business models and data utilization"
Member seminar "The frontiers of big data and open data: the co-creation of business models and data utilization"
On August 29th 2016, JANE hosted a members' seminar on "The frontiers of big data and open data: the co-creation of business models and data utilization".
The Big Data Business Consortium is an organization founded with the objectives of promoting new business model creation and strengthening the competitiveness of the Japanese economy through the utilization of big data and open data. The Consortium is operated by Big Data Creative, Inc.. JANE invited Mr. Kazumasa Miyazawa, CEO of Big Data Creative, to talk about making the most of big data and business model creation based on the activities of the Consortium.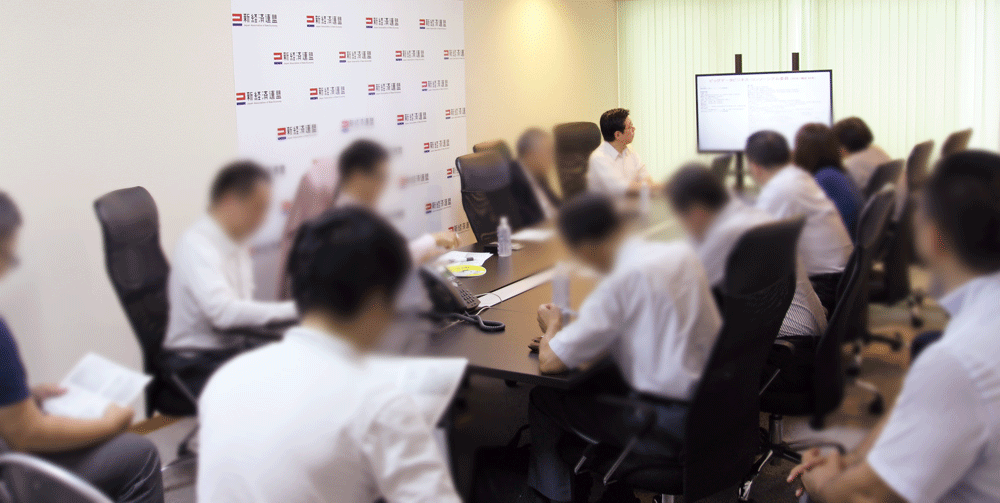 The Big Data Business Consortium has been engaging in initiatives in the following fields: regional regeneration including RESAS (Regional Economy and Society Analyzing System), tourism, and inbound hospitality; FinTech relating to the use of blockchain and new business creation; and CPS (Cyber Physical Systems) including IoT, big data, artificial intelligence and robots. With regard to RESAS, which is a system provided by the "Town-People-Work Creation" initiative secretariat of the Cabinet Office, the Consortium proposed and implemented the utilization of and the application of the API to both local government and private sector data building on how the analyses of regional spending trends have been used.
In the CPS-related areas, the Consortium has been advocating the necessity of continuous value creation utilizing big data in Japan, underlining the fact that the importance of IoT and other multi-sectoral fields was recognized in the US as early as in 2007.
In the seminar, Miyazawa proposed the establishment of an "IoT platform" in order to resolve the bottleneck in Japanese industries: the lack of data despite the high level quality of IoT devices, since major companies in Japan are reluctant about releasing their big data; the insufficiency of IoT data standardization and of inter-communicability between different manufactures devices, caused by manufacturers' tendency to shield their products.
The platform is intended to serve as a mechanism to optimally control real world devices through the collection, accumulation and analysis of big data under a set of rules and standards. It is expected that such a platform would spur new startups and create novel services and business models. In order to make this happen, efforts involving both the government and the private sector are required, in areas spanning from the design and certification of standardized formats regarding the content and accuracy of data, the establishment of device authentication methods and standards, to the establishment of device security rules as well as a common identification system. Miyazawa emphasized the role of the Big Data Business Consortium in supporting and advancing these developments going forward.
The seminar provided valuable inspirations for new business ideas as well as a timely update on the trends where data is said to have become the capital in itself in the advent of IoT.
We would like to thank Mr. Miyazawa and the participants for the informative and engaging seminar.