Announcing the release of a Proposal Regarding COVID-19-Related Issues: Steps Toward "Back to Normal"
Announcing the release of a Proposal Regarding COVID-19-Related Issues: Steps Toward "Back to Normal"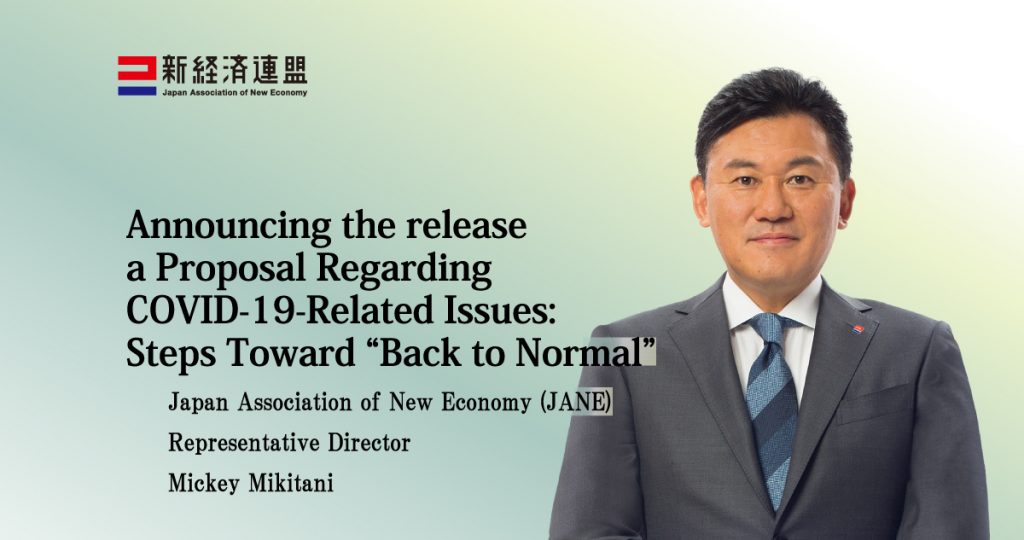 Japan Association of New Economy (JANE)
Representative Director
Mickey Mikitani
JANE has released a new set of recommendations for COVID-19-related issues, entitled Steps Toward "Back to Normal."
●Outline of the proposal:
We recommended a series of steps for achieving the goal of "getting back to normal."
In Step 1, we propose concrete measures to promote vaccination, especially among young people.
In Step 2, we propose specific conditions for removing or easing various restrictions currently in place, and new vaccination and testing policies necessary to resume economic activities.

The full text of our proposals can be found here.
●For Reference: 
Comments Regarding the Announcement of a State of Emergency(January 7, 2021, *Japanese only)
"Public-Private Revival Plan" to Drive Both the Reopening of the Economy and Infection Prevention (August 28, 2020, *Japanese only)
An Urgent Call for Vaccination Measures to Conquer COVID-19 (April 23, 2021)