An Urgent Call for Vaccination Measures to Conquer COVID-19
An Urgent Call for Vaccination Measures to Conquer COVID-19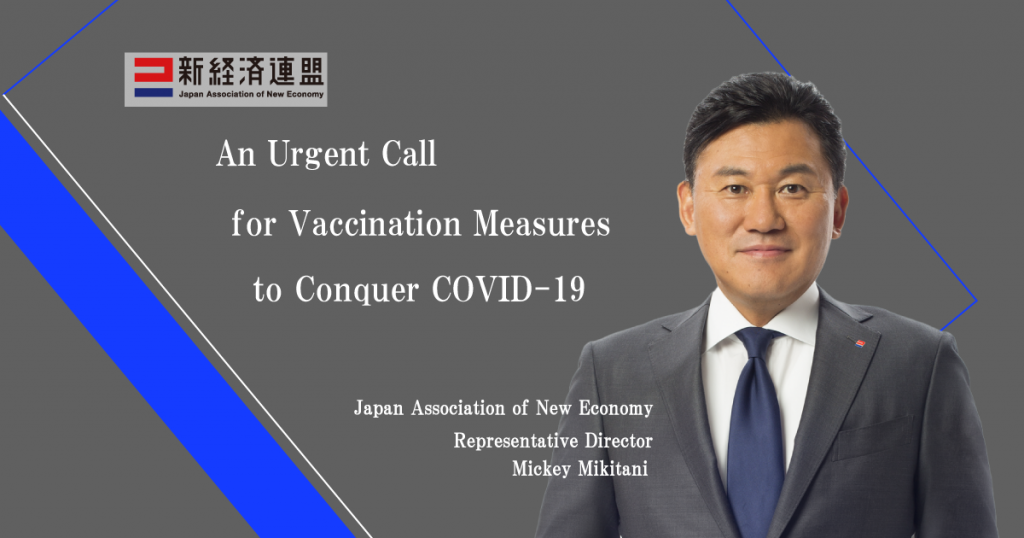 Japan Association of New Economy
Representative Director
Mickey Mikitani
In response to the troubling situation brought about by the COVID-19 pandemic, we at JANE call on the government to make a coordinated and concerted effort to take swift and concrete action to remedy the core issues faced by Japan today through implementation of the vaccination strategy, as proposed below.
Fundamental revision of vaccination operational plans (especially revision of overreliance on public health centers)
1) Administer vaccines at facilities run by medical professionals, such as doctor's offices and medical clinics.
2) Administer vaccines at large-scale facilities and parking lots using a drive-through system.
3) Expand support personnel to assist the administration of vaccinations (utilize medical professionals in addition to physicians.) Implement financial support measures such as compensation and incentive systems for those personnel.
4) Establish an advisory board for supply chain management made up of private sector experts.
5) Examine the feasibility of single-dose vaccinations.
 Vaccine approvals
1) Implement special emergency vaccine approval procedures based on safety and efficacy data from Europe, North America, and other countries.
2) Share information regarding the safety of and any side effects brought about by the vaccines in a timely manner and provide a clear risk/benefit assessment. In the case that the benefits outweigh the risks, consider officially recognizing the freedom of choice of each individual to accept vaccination.
Development of an exit strategy that balances the prevention of further infection with the resumption of economic activities
1) Encourage those in Japan who have received vaccinations to resume economic activities. Consider the provision of certificates proving vaccination.
2) Include vaccination and antibody tests as entry conditions for new arrivals to Japan through visa frameworks such as the "Business Track" and other programs.
3) Develop a rapid PCR testing system for both Japanese and non-Japanese people entering Japan.
For Reference: Recent statements regarding the COVID-19 pandemic (*Japanese only)
・Comments Regarding the Announcement of a State of Emergency (January 7, 2021)
・"Public-Private Revival Plan" to Drive Both the Reopening of the Economy and Infection Prevention (August 28, 2020)