Regarding Prime Minister Suga's Newly Formed Cabinet: A Public Statement from JANE Representative Director Mickey Mikitani
Regarding Prime Minister Suga's Newly Formed Cabinet: A Public Statement from JANE Representative Director Mickey Mikitani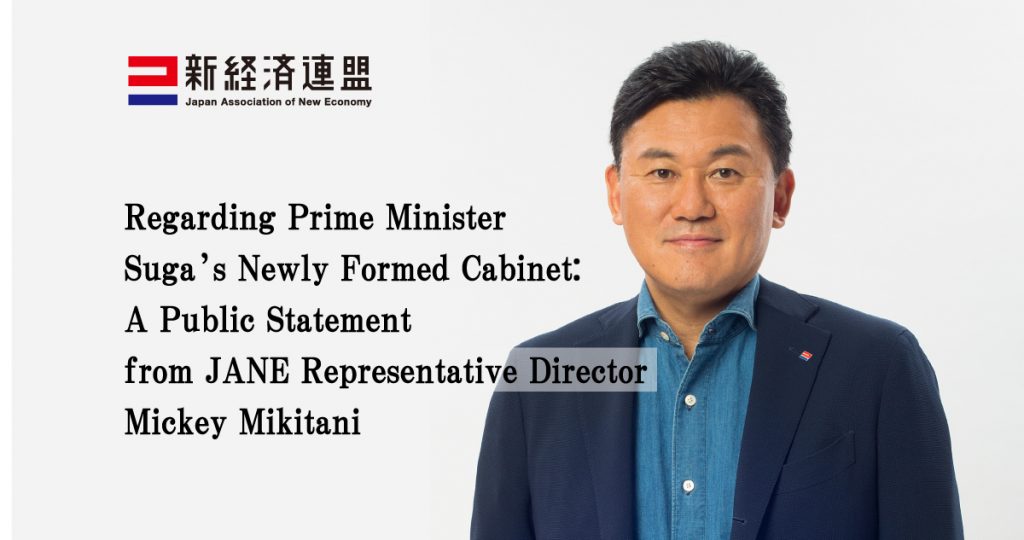 September 16, 2020
Japan Association of New Economy
Representative Director
Mickey Mikitani
Prime Minister Suga's new Cabinet was inaugurated today. First and foremost, the newly formed administration must seek ways to balance measures that prevent the spread of COVID-19 with those designed to re-open economic activity. At the same time, this cannot be realized without implementing sweeping digital transformation across all layers of society. On behalf of the Japan Association of New Economy (JANE), I would like to express my high expectations of Prime Minister Suga's strong leadership to bring about these reforms.

Since our launch in June 2012, JANE has championed digital transformation as the strategic cornerstone of Japan's economic growth. We have advocated for comprehensive legal framework improvements that abolish in-person, on-paper, official seal-based rules and other analog restrictions. Now is the time to put an end to agreeing in principle but disagreeing on the details and implement regulatory reform.

It is vital that we move away from outdated information systems based on old mainframes and replace them with containerized cloud platform systems. It must be a priority for national and local government administrations to definitively revise the way we procure systems and commission development work. The COVID-19 pandemic has prompted a positive reevaluation of the way we utilize the knowledge and tech of startups to address social challenges. In order to drive this forward, JANE encourages the new administration to set forth a clear policy and concrete steps that promote digital transformation and engage startups, as well as build a bold new organizational structure that cuts across vertical silos and engages expertise from the private sector.

JANE has advocated for policy proposals such as Japan Ahead, and in the future, we will propose to the new administration a new strategy for Japan's economic growth in line with the principles outlined above. JANE will continue to do everything we can as a business association to contribute to the further development of Japan's economy.
For Reference:
・Japan Ahead 2 (April 11, 2018)
・Japan Ahead (May 14, 2015)