【Public Comment】JANE views on draft amendments of Guidelines concerning Distribution Systems and Business Practices
【Public Comment】JANE views on draft amendments of Guidelines concerning Distribution Systems and Business Practices
JANE submitted its views on May 10th in response to the Japan Fair Trade Commission's call for public opinion on the draft amendments of Guidelines concerning Distribution Systems and Business Practices.
The original document in Japanese is available here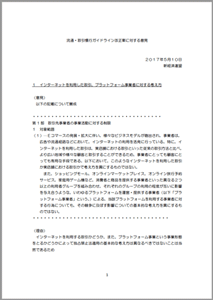 【Summary of our views】
1. We agree with the Fair Trade Commission's view that the Antimonopoly Laws should equally apply regardless of whether the transaction is internet-based and whether the business is a platform service provider.
2. It should be noted that intra-brand competition (competition between retailers) as well as inter-brand competition play an important role in ensuring healthy competitions, and that vertical restraints would have competition-restraining effects.
3. We agree with the Fair Trade Commission's view that a ban on sale to discount suppliers would hinder normal price competition
4. There is no need to raise the safe harbor threshold