[Public Comments] JANE views on draft revisions on Tourism Nation Promotion Basic Plan
[Public Comments] JANE views on draft revisions on Tourism Nation Promotion Basic Plan
On February 28th, JANE published its views regarding possible revisions on Tourism Nation Promotion Basic Plan.
The original document is available in Japanese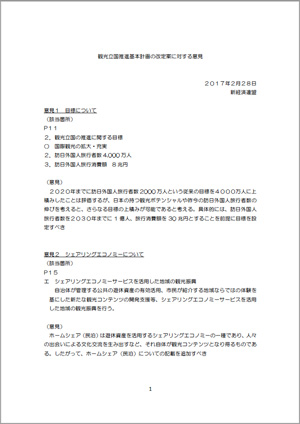 【Summary of our views】
1. Digital marketing strategy (Establishment of a Government CMO)
Digital marketing is the most effective marketing tool to attract today's travelers. The position of a government Chief Marketing Officer (CMO) should be newly created to implement and oversee integrated digital marketing strategies.
2. Provision of transport services to meet the needs of inbound visitors (ride sharing)
Ridesharing can improve the ease of mobility for foreign travelers, and can stimulate their spending while in Japan.
It goes against the spirit of hospitality not to provide a method of transport that is familiar to many inbound visitors. It can also discourage repeat visits.
Appropriate regulatory framework needs to be established so that ridesharing can be introduced nationwide by the time the 2020 Tokyo Olympics is held.
3. Night Time Economy
Promoting the night time economy would improve tourist satisfaction rates while at the same time generating substantial economic impacts. A new provision on the night time economy should be added, with measures such as the following to be included:
• More flexible regulations on the location of nightclubs
• Organize night museums, night tours and night concerts
• Promotion of integrated resorts
• An accreditation process similar to the "Purple Flag" in the UK to acknowledge areas that meet the standards of excellence in managing the night time economy