JANE issued its views on legal framework for home sharing
JANE issued its views on legal framework for home sharing
On December 8th, JANE issued its updated views on a legal framework for home sharing, taking into account of the government's deliberation status of a new bill on home sharing.
The original document in Japanese is downloadable here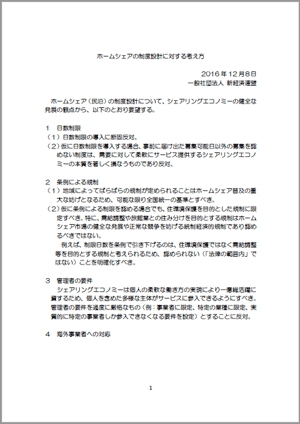 Summary of our views
1.Limit to the number of operable days
1-1. JANE strongly opposes the introduction of maximum operating days limit
1-2. If the cap is to be imposed, home sharing hosts should still be allowed to rent out their properties outside of the pre-registered days of operation
2. Regulation by ordinances
2-1. The same unified rules should be applied nationwide.
2-2. Even if local governments are given authority to set their own rules, it should be made clear that their ordinances be directed to protect the living environment and not be used to further restrict the number of days home-share hosts can operate.
3. Property manager qualifications
Provision of property management service should be open to various actors including private individuals
Placing overly restrictive qualification requirements is discouraged
4. Overseas platform businesses
Hosts should be banned from posting their properties on unregistered or non law-abiding platform businesses