JANE presentation on distance learning at the government's Regulatory Reform Council Working Group
JANE presentation on distance learning at the government's Regulatory Reform Council Working Group
On November 29th, JANE made a presentation on distance learning at the "Investment promotion and miscellaneous issues" Working Group of the Council for Regulatory Reform.
Presentation document (in Japanese) can be downloaded from here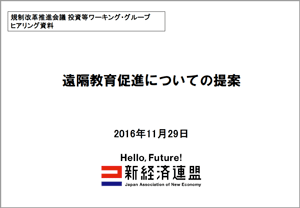 Presentation Summary
・Today's globalizing world demands interactive and proactive-style education with a special focus on communication skills, which requires the involvement of diverse talents. Distance learning can contribute to finding promising talents in remote places as well as to improving the quality of education for them.
・Against the background of increasing school consolidations and closing of branch schools in depopulated regions, distance learning can make it possible to keep schools open while maintaining the quality and quantity of education, thereby helping to sustain local communities
・Distance learning is at the moment only allowed at the high-school level, but should also be introduced in compulsory education schools. Revision should be considered on the current cap limiting the number of remote learning classes in high schools to less than half of units required for graduation.
・Qualifying conditions for distance learning teachers need to be made more flexible to allow involvement by teachers with diverse backgrounds. Currently they must be teaching license holders as well as being the employees of high schools providing distance courses. Distance learning teachers should also be allowed to teach classes from home.