Submitted a request for tax reform for 2023 regarding crypto assets
Submitted a request for tax reform for 2023 regarding crypto assets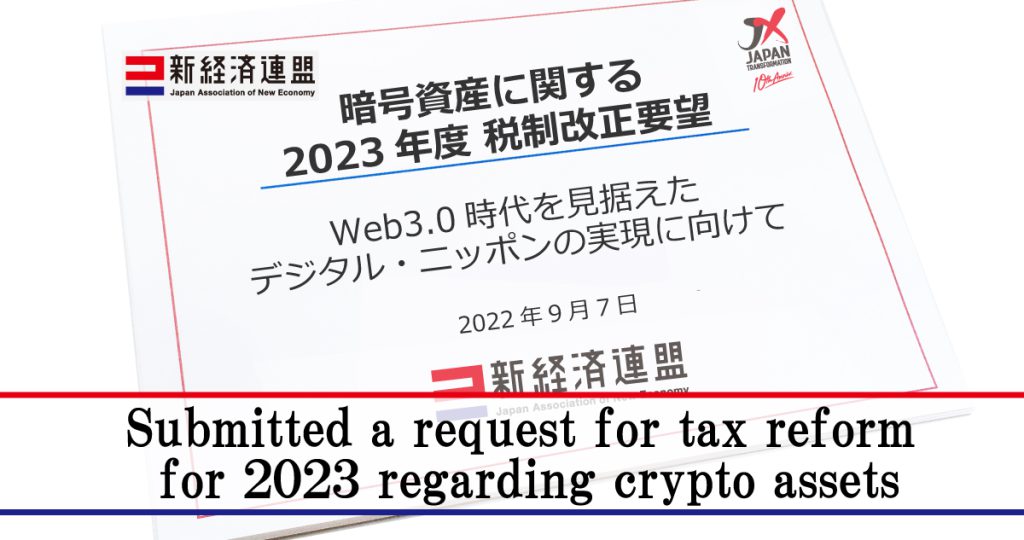 On September 7, JANE submitted FY2023 tax reform request regarding crypto assets to the Japanese Government. 
On September 7, the Japan Association of New Economy (Location: Minato-ku, Tokyo; Representative Director: Hiroshi Mikitani; hereinafter "JANE") submitted a request for tax reform for fiscal year 2023 regarding crypto assets.
Regarding the corporate taxation of crypto assets, it has been pointed out that the tokens will be marked to market value at the end of the fiscal year and tax will be imposed on unrealized profits even if a company that has issued tokens through an ICO (*1) or IEO (*2) continues to hold these tokens on its own. Taxation on unrealized profits is not common in major developed countries, and is one of the reasons why Web 3.0 companies, especially start-ups, are moving overseas, as it is problematic from the perspective of predictability and tax-bearing capacity. For this reason, we requested that cases where tokens are issued and held in-house be valued at book value rather than at market value. In addition, from the perspective of supporting the incubation, growth, and expansion of startup companies' businesses, we requested that tokens issued by startup companies and held by third parties that are not for short-term trading purposes be valued at book value rather than market value. Regarding the taxation of individuals, we requested that profits arising from crypto asset transactions be subject to separate taxation on tax returns, as was the case with last year's tax reform request.
In a commemorative book published in June to mark JANE's 10th anniversary, JANE Representative Director Hiroshi Mikitani stated, "The imposition of corporate tax on unrealized profits from crypto assets is a significant burden for companies. There are also many gray areas in the blockchain-related legal system, which is a reason why promising domestic startups are considering moving overseas" (JAPAN TRANSFORMATION: Japan's Future Strategy).
The government is also focusing on promoting Web 3.0. On August 31, 2022, the Financial Services Agency released its request for tax reform for fiscal 2023, including a review of the year-end market value taxation of crypto assets jointly with the Ministry of Economy, Trade and Industry. JANE supports the government's efforts in this regard.
*1 Initial Coin Offering: Issuance of new tokens by a licensed exchange.
*2 Initial exchange offerings: New token issuance by an operating company in cooperation with an exchange.
Fore more details (the proposal is available only in Japanese)