Statement from JANE Regarding the Promotion of Diversity and Inclusion
Statement from JANE Regarding the Promotion of Diversity and Inclusion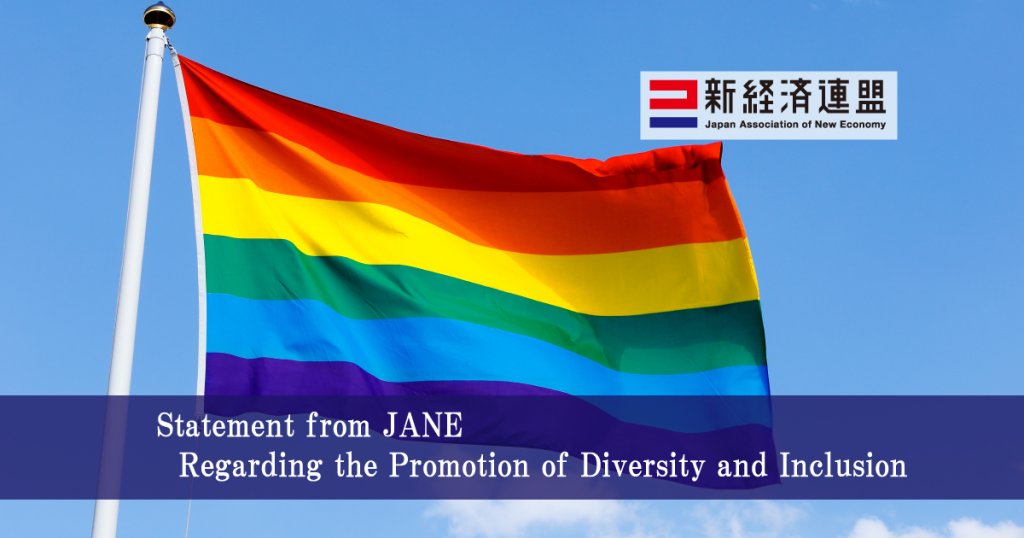 The Japan Association of New Economy (JANE) announces the following statement regarding the promotion of diversity and inclusion.
Support for the Bill for the Promotion of Public Awareness Regarding the Diversity of Sexual Orientation and Gender Identity

The Bill for the Promotion of Public Awareness to Promote Diversity of Sexual Orientation and Gender Identity is of tremendous importance to create an environment in which all people are empowered to contribute to and play in active role in society.
In order to promote the innovation of Japanese enterprises and to be competitive on the world stage, JANE requests that the Diet members make every possible effort to transcend political party boundaries to enhance the diversity and inclusiveness of our society by empowering people of diverse sexual orientation and gender identity (SOGI) to live full and enriching lives, actively participating in and contributing to society.

Corporate Initiatives to Promote Diversity and Inclusion

JANE established the SOGI Empowerment Project Team in 2019 with the aim to advocate and enhance understanding of SOGI-related issues through educational seminars and activities for member companies. JANE's member companies are also further implementing initiatives such as recognition of private sector-issued partnership certificates for same-sex couples. JANE commends these proactive corporate initiatives and will continue to strive to enhance diversity and inclusion in order to further enrich Japan's society and economy through global innovation leadership.