JANE Executive Meeting held on March 29th
JANE Executive Meeting held on March 29th
The 16th Executive Meeting of JANE was held on March 29th.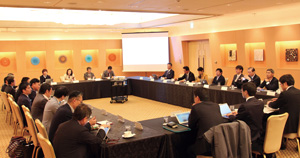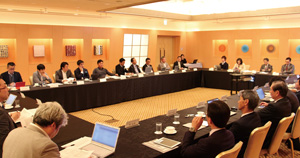 First on the agenda was an announcement on the convening of the New Economy Summit (NEST) to be held on April 6 and 7, 2017. Leading global innovators including Ben Horowitz (Co-Founder and General Partner, Andreessen Horowitz), Drew Houston (CEO and co-founder, Dropbox), and Tom Kelley (Partner, IDEO/Founder & Chairman, Design for Ventures) are expected to speak at this year's NEST.
This was followed by reports on how JANE activities are making an impact in the policy-related fields. These include the incorporation of the JANE-proposed term "Digital First" into the government's "Digital First Action Plan", inclusion of our recommended FinTech measures into government growth strategies, lifting of a ban on digitally-mediated real estate property disclosure process, and a Cabinet Decision on the new home-sharing bill. It was reaffirmed that JANE will continue its efforts to press the government for further deregulation and robust reforms.
With regard to Project Teams (PT), notable activities of the past quarter included the Venture Philanthropy PT's presentation at LDP special committee for social entrepreneurship, participation of the Entrepreneurship Promotion PT in the government's Japan Venture Award, four school visiting lectures organized by the Building Entrepreneurial Workforce PT, submission of public comments by the Workstyle Diversity PT, presentation at the LDP used housing market committee by the Expansion of Real Estate Market PT, involvement of the Education Reform PT in government consortium for the future of learning, and publication of interview articles by the Regional Revitalization PT.