"Mirai no Shisatsu-dan" - JANE delegation visited Finland, Estonia and Belarus
"Mirai no Shisatsu-dan" – JANE delegation visited Finland, Estonia and Belarus
Japan Association of New Economy ("JANE") visited Finland, Estonia and Belarus from 17th-21st of November with the project named "Mirai no Shisatsu-dan" ("Delegation for the Future"). "Mirai no Shisatsu-dan" is a project under which we visit cities and events with innovative and advanced ideas for the purpose of obtaining implications to raise Japan's competitive power.
The purpose of visit in Finland was to participate in "Slush" – the biggest start-up event in Northern Europe- where Hiroshi Mikitani (Chairman & CEO of Rakuten, Inc), Representative Director of JANE talked on the stage with Prime Ministers of Finland and Estonia. In Estonia, delegation had discussion about digital society and e-services with the President, Prime Minister and other government officials as well as private companies. In Belarus, the delegation mainly visited High Tech Park. Along with the Representative Director Hiroshi Mikitani, Director Yasufumi Hirai (President and General Manager, Cisco Systems G.K), Executive Members Yasuhisa Takatani (President, E-guardian Inc.) and Tetsuya Sanada (President & CEO, KLab, Inc) joined the delegation.
[Helsinki, Finland] The SLUSH is the biggest and the most famous start-up event in Northern Europe. At the SLUSH, Mr. Mikitani had a fireside chat at the main stage with the Prime Minister of Finland Mr. Alexander Stubb and the Prime Minister of Estonia Mr. Taavi Rõivas. At the session, Mr. Mikitani shared his experience as a leader of entrepreneurs and also described challenges in setting up supporting environment for startups in Japan. Prime Minister Stubb shared his view on supporting environment for technology start-ups. Prime Minister Rõivas introduced e-services offered in Estonia and its advantages to tech companies. Both prime ministers and Mickey agreed and convey messages to enhance entrepreneurship, globalization and support innovative businesses.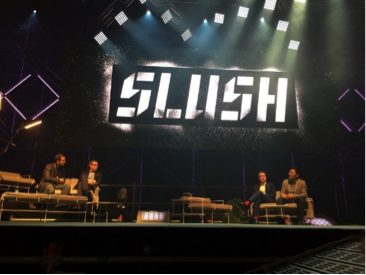 Slush stage talk session (from right to left: JANE Representative Director Mr. Mikitani, Prime Minister of Estonia Mr. Rõivas, Prime Minister of Finland Mr. Stubb, and Moderator of the session Mr. Gordon Kelly)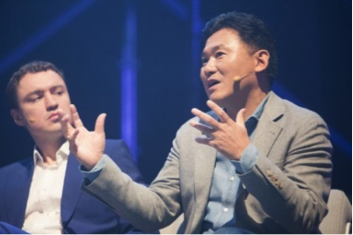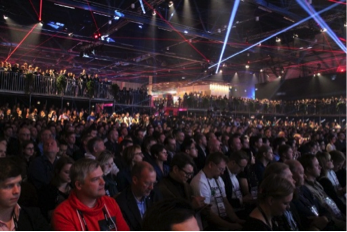 (Photo on the left)Slush stage talk session, (Photo on the right) audiences listening to the session (picture on the right)
Approximately 13,000 people participated in Slush this year. Besides leadership talks at the main stage, there were stages for entrepreneurship talks, start-ups pitching to investors and new products demonstrations. JANE Director Mr. Hirai, Executive Members Mr. Takatani and Mr. Sanada also observed the event for the perspectives of inspecting the start-up scene in Europe and also as preparation for JANE's New Economy Summit 2015.
[Tallinn, Estonia] The visit to Estonia realized thanks to the invitation by President Ilves of Estonia at the breakfast meeting in March 2014 between JANE and the Estonian delegation. Estonia is well known as very advanced ICT country with the term of "
e-Estonia
", using ICT in public systems such as voting, education, and healthcare. During the visit, JANE visited the President, Prime Minister, Ministries and CIO of the government to overview the digitalization in Estonia and had discussions about internet security and procurement with Information System Authority. The delegation also made a visit to a pharmacy to see real demonstration of using e-prescription.
 With the President Ilves, JANE members discussed many topics related to ICT use, such as advancing efficiency of administrative process of government with ICT. At the Prime Minister's office, the delegation visited cabinet room where paperless cabinet meeting is taken place and had discussion with the Prime Minister about challenges to implement ICT use in society.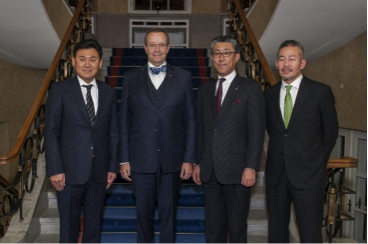 At the President's Office (from left to right: Mr. Mikitani, President Ilves, Mr. Hirai, Mr. Takatani)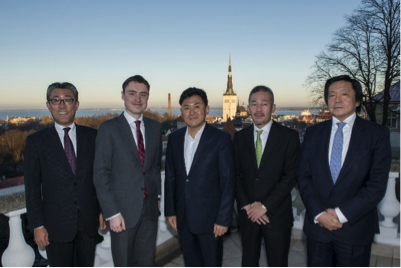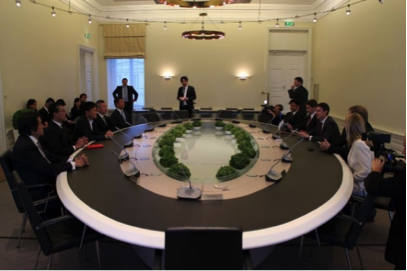 (Photo of the left)At the balcony of Prime Minister's office (From left to right: Mr. Hirai, Prime Minister. Roivas, Mr. Mikitani, Mr. Takatani, Japanese Ambassador to Estonia Mr. Kai)
(Photo of the right) Cabinet Office of Estonia (JANE delegation at the left side with Mr. Mikitani in the center, Estonian members at the right side with Prime Minister Roivas in the center)
Estonia is also well known as generating powerful Tech ventures. During the visit, JANE delegation met Estonian entrepreneurs to see start-up landscape in the country.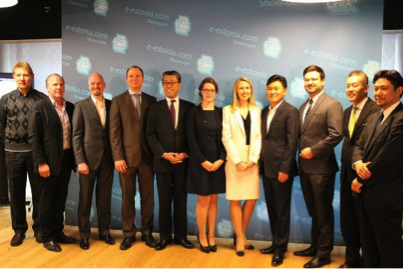 JANE members with Estonian entrepreneurs at E-Estonia Showroom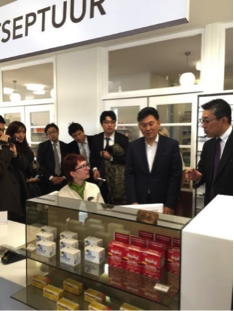 Visiting a pharmacy to see e-prescription
[Minsk, Belarus] Belarus gathers attention recently by ICT companies for place to outsource as it has a number of skilled engineers. During the visit, the JANE delegation visited High-Tech Park and had meetings with ICT related companies to observe the situation.
JANE continues to promote new economy to increase the competitiveness of Japan. With experiences obtained from trip to Estonia, we will continue working on policy proposals with more strategic use and application of information technology. In addition to policy proposals, we plan to organize inspiring event "New Economy Summit" in April 2015 in Tokyo, and will send a message of innovation, entrepreneurship and globalization.