JANE Silicon Valley Summit on December 7 and 8
JANE Silicon Valley Summit on December 7 and 8
JANE organized the Silicon Valley Summit on December 7 and 8, 2017. The event was designed for JANE executives to learn about Silicon Valley innovation ecosystem as well as to share insights and network with top tech companies, VCs and startups in the area.
JANE delegation was composed of Hiroshi Mikitani (Rakuten), Takashi Inoue (LIFULL), Noboru Hachimine (OPT Holding), Noriyuki Matsuda (Sourcenext), Takashi Yuri (TechMatrix), Koichiro Yoshida (CrowdWorks), Gen Isayama (WiL), Yasuhiko Okamoto (LIKE), Kaneto Kanenmoto (OK Wave), Tetsuya Sanada (KLab), Yosuke Tsuji (Money Forward), and Yasufumi Hirai (Rakuten Communications).
Day 1 program included visit to Palo Alto incubators Playground Global and StartX, followed by a roundtable meeting with Silicon Valley's leading VCs and entrepreneurs.
Playground is a hardware-focused incubator founded by Android creator Andy Rubin. Their design studio is equipped with cutting edge machines and tools for startups making hardware devices. The tour of the studio also included a demo by a Playground-supported startup.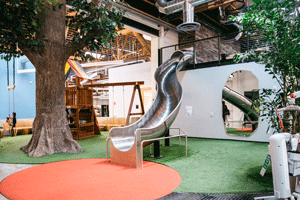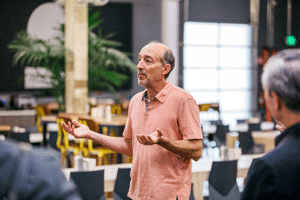 Playground studio tour by Co-Founder Bruce Leak
On the visit to StartX, an educational non-profit associated with Stanford University, Founder & Chairman Cameron Teitelman shared their background and efforts to accelerate the development of Stanford's entrepreneurs.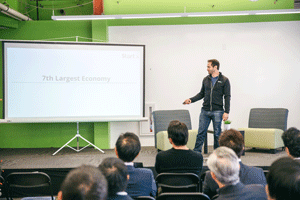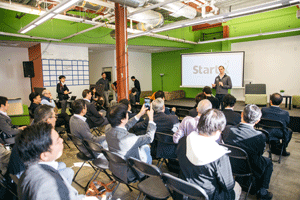 Presentation by Cameron Teitelman at StartX
The roundtable meeting was held at Rakuten US headquarters in San Mateo. Participants from the US side included Ben Horowitz from Andreessen Horowitz and John Zimmer, Co-Founder and President of Lyft, and a few other leading VCs based in Silicon Valley. The discussion covered a wide range of topics from the impact of AI and autonomous driving to ways to accelerate innovation and entrepreneurship in Japan.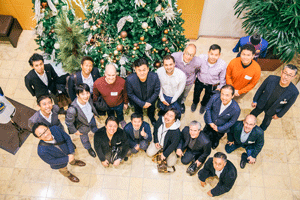 With roundtable meeting participants
Day 2 started with a visit to Plug and Play Tech Center in Silicon Valley, the world's largest startup accelerator, followed by a meeting at Lyft headquarters in San Francisco and then a media mixer event with San Francisco-based journalists.
At Plug and Play, the members took a tour of the Tech Center and discussed PnP's collaborative efforts with Japanese enterprises to support startup firms. There were also presentations by PnP-affiliated startups in the field of AI and digital marketing.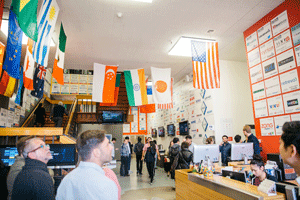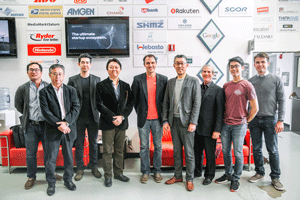 Plug and Play Tech Center
An interesting discussion was held at the Lyft office on the future of ridesharing and autonomous driving technology. The visit to Lyft HQ also included an office tour and a Q&A session with Co-Founder John Zimmer, where a lively conversation took place about the relations between ride-hailing services and automakers, freelancing work styles of drivers, as well as ridesharing regulatory challenges.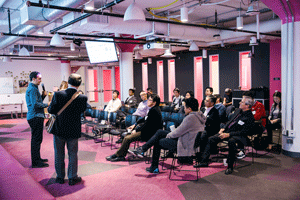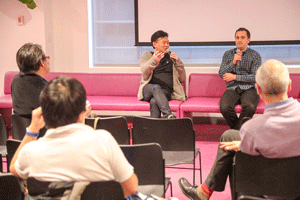 Ridesharing discussion at Lyft HQ
The concluding part of the program was a media mixer held at the "Ohana" floor of the Salesforce office in San Francisco. The event attracted the participation of several renowned tech journalists, and provided a great platform to introduce US media to JANE activities and member companies.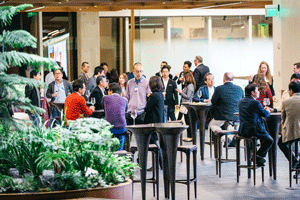 Media mixer