Breakfast meeting with Dow Jones CEO and Top Management held on November 1st
Breakfast meeting with Dow Jones CEO and Top Management held on November 1st
On November 1st, coinciding with Dow Jones CEO William Lewis's visit to Japan, JANE held a breakfast meeting with Dow Jones and its top management in Tokyo.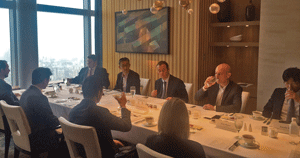 Dow Jones is a top American media company and publishes the leading business newspaper The Wall Street Journal (WSJ). Attendees at the meeting included William Lewis, CEO; Chief Innovation Officer Edward Roussel; and Managing Director International Jonathan Wright. Attendees from JANE included Noboru Hachimine (Founder, President, and CEO, OPT Holdings), Yasufumi Hirai (Chairman, Rakuten Communications), and Tomoharu Inoue (President, Inoue Business Consultants).
Under the leadership of William Lewis, Dow Jones is pushing forward in the arena of media digitalization. During the breakfast, Mr. Lewis and Mr. Roussel discussed digital disruption in the media, disruptive innovation in the areas of sports and energy, virtual reality, augmented reality, and artificial intelligence. They also spoke about changes in consumer working styles and productivity due to increased use of mobile platforms, as well as recent related corporate news such as the proposed acquisition of Time Warner by AT&T. Our discussions covered a wide range of topics and developed into a lively exchange of views.
Mr. Lewis explained that as growth is becoming more difficult on a macroeconomic level, the media industry is most heavily feeling the impact of digitalization. He expressed that the key to growth is discovering the best ways to integrate legacy systems with new systems, figuring out how companies can disrupt themselves and provide innovative and revolutionary services and products.
Mr. Lewis also expressed his view that due to the prevalence of smartphones in the market, it's more important than ever to take user consumption habits into account and adapt product offerings accordingly.
Although it was a rainy morning, we had a lively discussion with Tokyo Tower in the background. The hour and a half meeting ended before we knew it. Thank you to Dow Jones and our executive members for participating in this meeting!