Submitted "JX (Japan Transformation) Policy Proposal - JANE's Vision for Japan's Future" to Prime Minister Kishida
Submitted "JX (Japan Transformation) Policy Proposal – JANE's Vision for Japan's Future" to Prime Minister Kishida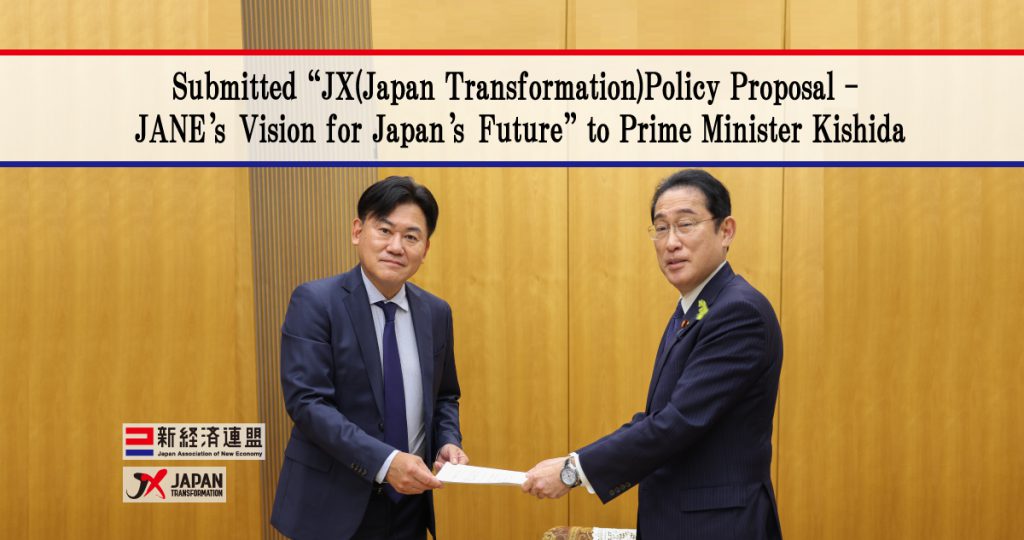 On July 10th 2023, Japan Association of New Economy (JANE. Location: Minato-ku, Tokyo;
Representative Director: Hiroshi Mikitani) has submitted "JX (Japan Transformation) Policy Proposal – JANE's Vision for Japan's Future" to Prime Minister Kishida.
On July 3rd, JANE has hosted "JX Live! 2023 -Think Japan's Future Vision with Business and Political Leaders – ", an event to promote its own policy proposal JX.
At the event, JANE has hosted roundtables of business executives, politicians and experts to discuss Future Vision of Japan(Read Event Report).
Using the discussions held at this event as a reference, JANE has compiled advocacy message that consists of three key areas: "1. Strategies to make Japan an innovation powerhouse that attracts people, knowledge, and money", "2. AI/Web3 Strategies", and "3. GX Strategies".
Read a summary of proposal
Read full text of proposal
         Mickey Mikitani handing over the proposal to Prime Minister Kishida