2023 New Year Message from the Representative Director
2023 New Year Message from the Representative Director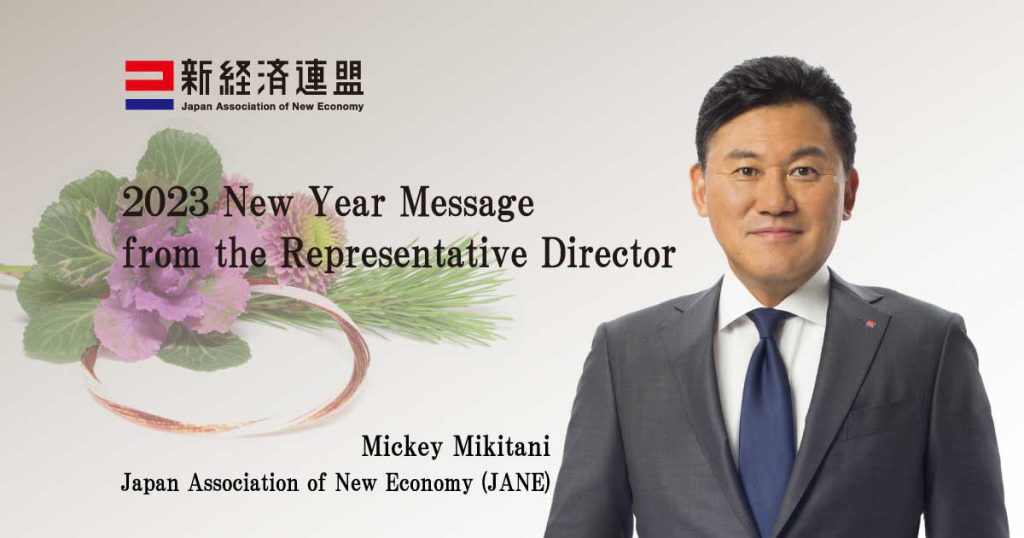 On behalf of the Japan Association of New Economy, please allow me to extend to you our best wishes for the New Year.
Last year, JANE celebrated its 10th anniversary. I would like to express heartfelt gratitude once again for all of the cooperation and participation of our member companies, as well as to all the people from across many different fields who have lent us such generous support.
At the conclusion of our first decade, JANE is more active than ever. The policy issues we handle center on digital policy, but also include carbon neutrality, economic security and many others. JANE proactively makes policy proposals to the current government based on our assessment of what policies are critical for the future of Japan. In addition to seminars on essential topics for business executives, we also hold networking events for JANE members to cultivate strong relationships and exchange information. While some restrictions imposed by COVID-19 remain in place, we can also now hold some in-person events, such as the Art Action Forum.
At the same time, the Japanese economy has unfortunately remained stagnant. Low and even negative economic growth has continued during and in the wake of the COVID-19 pandemic, and domestic demand has been particularly weak, impacted by a slow recovery in capital investment. Cost-push inflation is hampering economic recovery, as import prices rise due to increasing international commodity prices and the weak yen. Japan's baby boomer generation will turn 75 years or older in 2025, just two years from now, and it is readily apparent that the falling birthrate and aging population will become an even more serious issue in the future, as our workforce shrinks.
In order to create prosperity for Japan, JANE believes that Japan must fundamentally change its economic structure from a government-driven one to a private business-led model. We call this economic transformation, including social structural change, "JX" (Japan Transformation). To realize JX, JANE believes it is necessary to create an environment that both enables the private sector to actively invest in driving economic growth and creating solutions to social issues by lowering taxes, based on the principle of giving more authority to the private sector, as well as fostering new industries based on digital and green technologies.
Expansion of inefficient public spending may temporarily increase demand, but it does not lead to sustainable growth, as the Japanese economy has proven since the collapse of the bubble economy. Inefficient public spending has led to the accumulation of large amounts of government debt, which has forced Japan to keep interest rates low, creating distortions across the economy as a whole, including an excessively weak yen. To abolish inefficient public spending and create a private business-led economic structure, there is an urgent short-term need to lower tax rates and normalize from the pandemic, and in the mid- to long-term to fundamentally improve the productivity of Japan's economy.
Lowering tax rates lays the foundation for economic growth, encompassing efforts designed to both increase domestic investment and stimulate the economy. Without lowering tax rates, domestic investment will not expand, making it difficult to achieve high economic growth. Lowering the corporate tax rate will contribute to increased investment and consumption, as well as promote foreign investment in Japan. In fact, in the U.S., companies and the general population are moving from the high-tax state of California to the low-tax state of Texas, resulting in Texas now experiencing the largest increase in population growth in the U.S.
Regarding the response to COVID-19, its classification under the Act on the Prevention of Infectious Diseases and Medical Care for Patients with Infectious Diseases should be changed from Class II to Class V as soon as possible. If COVID-19 is classified as a Class V Infectious disease, the national and local governments will no longer be required to recommend hospitalization, restrict work, or ask citizens to refrain from going out, and the costs of examination and treatment will no longer be covered by public expenses. In addition to the effects of eliminating work restrictions and reducing public expenditures due to infections, the most economically significant effect would be the impact of the announcement itself that COVID-19 has finally become a regular disease — comparable to seasonal influenza.
In Japan, the government still recommends wearing masks indoors, which many believe casts a dark shadow over consumer sentiment. On the other hand, in the U.S., the mask-wearing requirement was abolished in all states last March, and in the U.K., it was eliminated for indoor public facilities last January. As the fight against COVID-19 enters its fourth year, it is obvious that Japan's economy is in danger of falling behind the rest of the world. We must avoid such a situation.
To transform the economy into a private sector-led structure over the mid- to long-term, we must return to JANE's founding principles of innovation, entrepreneurship and globalization. We must fundamentally improve the productivity of our nation. Specifically, Japan must promote DX (Digital Transformation) in all industries and government bodies, fundamentally strengthen entrepreneurship education, remove impediments to the growth of startups, and nurture the next generation of Unicorn companies. JANE also believes that encouraging immigration is a highly effective initiative to both drive innovation through the diversity of international talent and to offset Japan's shrinking population.
Last year, in order to prevent the suppression of the seeds of innovation, JANE made a proposal for tax reform in regard to crypto assets, as well as a proposal regarding "Startup Policy" that aimed to increase the number of entrepreneurs as much as possible. Furthermore, JANE shared briefings at government meetings on "Requests to promote the acceptance and the active participation of human resources from foreign countries," stressing the importance of strengthening the acceptance of human resources from foreign countries to both promote innovation and respond to the issue of declining population.
In order for Japan's economy to remain competitive on the world stage, we believe that JANE's role as a startup economic organization expands with each passing day. We will continue to work to break through the barriers presented by outdated thinking and further drive expansion of our economy.
We very much look forward to your continued support and cooperation in the year ahead.
January 1, 2023
Japan Association of New Economy (JANE)
Mickey Mikitani, Representative Director