A Public Statement from JANE Representative Director Mickey Mikitani Calling for Swift Resumption of International Travel to Japan
A Public Statement from JANE Representative Director Mickey Mikitani Calling for Swift Resumption of International Travel to Japan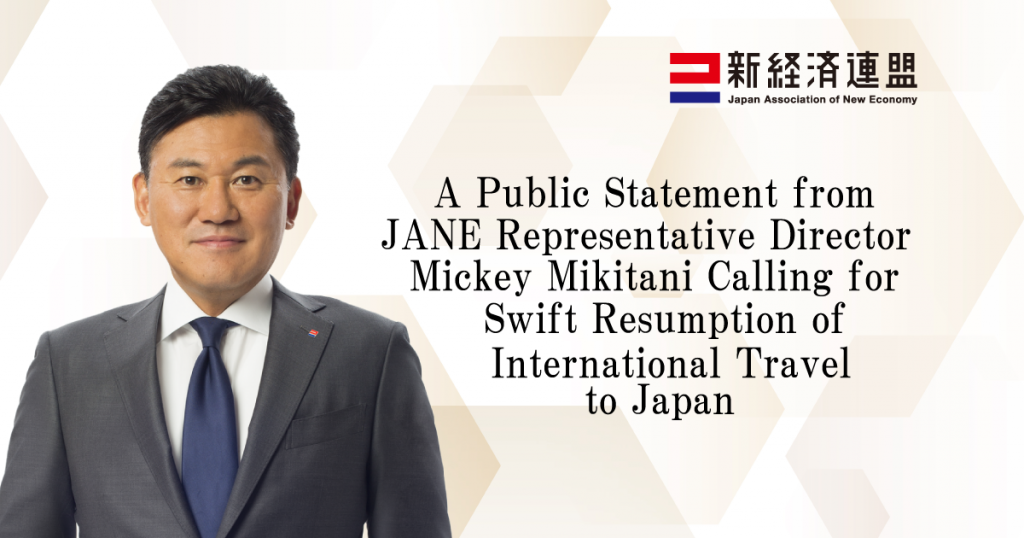 Current border measures
・Due to the border measures taken in response to COVID-19, entry and departure programs required for business travel to Japan (both residence track and business track) have been suspended since January 2021. In addition, new entry for students, family dependents and other residents also continue to be suspended (*Note). Furthermore, all people entering the country, including returnees, are required to quarantine themselves for 14 days. Those who have visited certain countries are also required to stay in designated hotels for specific periods of time.
Current border measure issues
・It has been announced that the above-mentioned measures will continue until the end of February this year, but these measures are generating growing issues for the conduct of business. This is due to the extended period of time for which foreign nationals who have been approved for residence status have not been able to enter Japan, the impediments on business travel for domestic residents and other related issues.

・If this situation continues, there is a significant risk of these measures becoming obstacles to innovation in the medium to long term. Not only is Japan likely to experience labor shortages that may impact the process of economic recovery, but this is also set to strengthen a global perception of Japan as a society that does not welcome foreign nationals within its borders.

Border measures based on the characteristics of the Omicron variant
・It has been said that the Omicron variant is less likely to lead to severe illness and has a short incubation period and, based on the cases being seen in Europe and the United States, reports that many asymptomatic people are testing positive with PCR tests does seem to help to provide evidence for this observation. Based on these conditions, border measures are gradually being eased in Western countries.

・In Japan, we are also seeing steady progress in the response to these conditions. Nearly 80% of the Japanese population has already received two doses of the vaccine, booster shots have begun to be administered, and gradual progress is being made toward securing oral antiviral medicinal solutions.

・Given these circumstances, maintaining the current stringent border strategy could have enormous negative impacts on both Japan's society and economy. We urge the Japanese government to reopen the country's borders to entry from abroad as soon as possible, taking into account the evidence regarding the risk of serious symptoms, the current rate of vaccinations in Japan, and the potential availability of oral medications in the near future. Regarding the quarantine policy for vaccinated persons, we also request that both overseas vaccination records and domestic vaccination records be treated with similar processes, and that the quarantine period be abolished as soon as possible.

(*Note) Although it was announced that new entry into Japan for businesspeople, students, technical intern trainees, etc. would be temporarily resumed on November 5, 2021, new entry from all countries was suspended in response to the Omicron variant from November 30, 2021.