JANE meeting with Business Federation Luxembourg
JANE meeting with Business Federation Luxembourg
On May 26, JANE had a meeting with the delegation from the Information and Communication committee of the Business Federation Luxembourg.
Business Federation Luxembourg (FEDIL) was founded in 1918, with its members ranging from large corporations as well as small to medium-sized businesses that span across different industries. FEDIL's missions include policy advocacy on business-relevant economic and social issues, and representing Luxembourg at the Confederation of European Business (Business Europe), acting as a bridge between Luxembourg businesses and EU institutions. FEDIL's ICT committee regularly organizes delegation visits overseas to gain insights about latest technological trends as well as to network with ICT industry players of visited country. The delegation to Japan included 30 members, comprising government officials, CEOs of ICT companies and researchers.
At the meeting, FEDIL Chairman Mr. Gerard Hoffmann gave a presentation on the federation's missions, and in turn JANE Advisor Mr. Yasufumi Hirai presented about the activities of JANE as well as about Rakuten, a JANE member company, which was then followed by a question and answer session and discussion. FEDIL participants expressed strong interest in JANE's project team works based on the threefold objective of promoting innovation, entrepreneurship and globalization, and lively exchange of ideas ensued regarding future directions and opportunities for business in the advent of digitalization.

Takafumi Hirai and FEDIL Chairman Gerard Hoffmann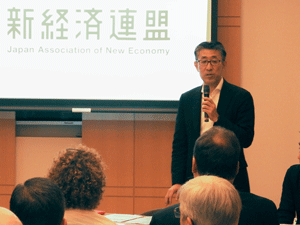 Presentation by Takafumi Hirai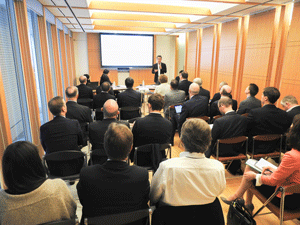 Meeting venue (Embassy of Luxembourg)